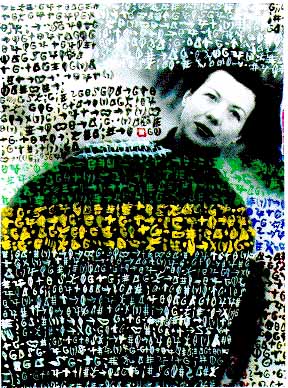 'Portrait' by Isidore Isou (1952)
I finally managed to finish my Honours/Stage One Masters Dissertation 
on One Plus One/Sympathy For The Devil at the end of 1997 with
no small amount of relief. I managed to get three-quarters of the way through it
when I discovered the film premiered exactly two years before I was born.
I still believe this is a great film of Godard's, even if it was universally panned 
by the majority of critics. 

Most of the criticism was undue and for all of the wrong reasons. I hope keeping the
essay available here will help demystify what is considered to be one of
Godard's most difficult/impossibly "ridiculous" and "incoherent" films.

If you find the text useful at all please send me a postcard.
If you're a writer send me one of your books.
If you're a film maker-a film, a painter-the house. You get the idea.

If you can't translate or have problems, please don't hesitate to write and tell me, 
and i'll see what I can do. Clicking the image on the left will give you an 
Acrobat Reader PDF file, the image on the right will give you an uncompressed
word document. If you want to read the text in html, then please click here.


All the best,
Gary Elshaw M.A., B.A.(Hons), Dip. Arts.
godard@hotmail.com